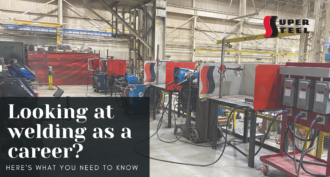 ---
Welding as a Career? Here's What You Need to Know.
To become a good welder, you will want to first know what a welder does. Next, you will want to know the types of welding. Once you've explored the types of welding, you will have a better understanding, and this may help you decide what type of welding it is that you'd like to do. Next, you'll want to take welding courses and earn your welding certificate to become a certified welder, or you will be glad to know that many companies have their own welding schools where you can also gain hands-on experience.
What Does a Welder Do?
Welders construct or repair metal products or wares by using heat to join multiple metals, such as brass, stainless steel, or aluminum. Based on what metals they're cutting and joining, welders may use an assortment of different welding tools and equipment. However, no matter what equipment they use, welders are accountable for building or reconstructing something accurately and with care.
Building and restoring many things, from housing and commercial structures, pipelines, aircraft, bridges, and automobiles, are just some of the items welders can do.
Welding is an excellent career choice for those who like to work with their hands.
Know the Main Types of Welding
Welding keeps our economy moving, from cars to planes and bridges to buildings! Welding plays an integral role in keeping us safe and advancing our quality of life, even though we don't always notice or see every weld under the hood or behind the walls. Every industry depends on it.
Arc: Process that uses electricity to create enough heat to melt metal and when the melted metal is cooled, results in a binding of the metals. Typically include the following applications: welding of sheet metals, welding thin, ferrous & non-ferrous metals, design pressure and pressure vessels, developments of piping in industries, and industries of shipbuilding.
MIG (Metal, Inert Gas) or GMAW (Gas, Metal Arc Welding): An Arc welding process that uses continuous sold wire electrode heated and fed into the weld pool from a welding gun. The gun provides a shielding gas alongside the electrode helping protect the weld pool from airborne contaminants. Applications, where MIG welding is used include most types of sheet metal welding and fabrication of pressure vessels and steel structures.
TIG (Tungsten Inert Gas): An Arc welding process produces the weld with a non-consumable tungsten electrode. The most critical applications for TIG welding are pipeline and pipe welding. It is, however, used in many industries, such as aviation and aerospace and sheet metal industries, when welding fragile materials and unique materials such as titanium.
Hyperbaric: Hyperbaric welding can be conducted in a dry environment, but the same method can be used when welding underwater. This specific type of welding can work on ships, pipelines, and oil platforms.
Oxyacetylene Welding: Using acetylene gas and oxygen, steel melts from this type of welding. Commonly used to maintain or cut various metals.
You've decided to be a Welder, so What Skills do You Need?
As a welder, you will need a strong knowledge of welding and metal properties. You must also read and understand technical documents, blueprints, and drawings. Employers may seek out welders with experience using certain specialized types of welding equipment. Welders must be knowledgeable about safety standards and abide by wearing proper protective clothing and gear.
Welding also demands outstanding preciseness to decipher blueprints and drawings to successfully combine two components. Welders must be comfortable working in fast-paced manufacturing environments, which may at times be noisy or feel frenzied. They should have good communication skills and follow written and verbal instructions. In addition, welders should also exhibit a willingness to put in the time and effort necessary to expand their skills and progress in their careers.
Educational Requirements to be a Welder
Commonly, welding jobs will require you to high school diploma or GED. Finishing a welding apprenticeship to get hands-on welding experience before starting your career is highly recommended. Apprenticeships can be a great way to begin developing relationships with a company.
Several welding jobs may want you to have a certificate from a welding vocational school or trade school. Certifications are usually earned through the American Welding Society, where welders can earn several welding-specific certifications. Certification needs to be renewed every six months to a year to prove that skills and knowledge are current. To learn more about credentials, please visit https://bit.ly/3Exqyk8.
Along with certification, on-the-job training is typically required. Certifications and on-the-job training are especially significant for welding since welding involves high temperatures that can be unsafe for someone inexperienced.
Super Steel Welding School
If you are interested in pursuing a welding career, contact Human Resources to learn more and meet our Weld School Instructor, Calvin Thames.