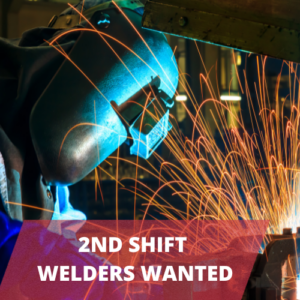 Job Title:                  2nd Shift Welder
Reports To:              Plant Manager
Work Location:        Super Steel LLC – Mequon, WI
Date:                        September 2022
Welding Job Purpose
Provide high-quality welding in a team-oriented environment.
Essential Duties and Responsibilities Include the Following:
You must work in a safe manner wearing all required personal protective equipment.  You must be able to identify and alert managers of unsafe conditions and mentor new employees in this application.
You understand the process of welding and can complete welds using MIG, Flux Core, and TIG methods to complete welding jobs.
You hold and maintain various weld certifications as required and approved by Super Steel.
You will weld together metal components of products and work on weldments for various projects.
You will develop welding safety and good shop practice skills and train newer welders on that application.
You will mentor welders with less experience in the correct techniques of welding.
You are able to set up your own machine and understand how to change welding tips.  You understand and complete the necessary machine maintenance.
You will supply and maintain at your workstation the required personal tools for the position level determined by Super Steel.
You are able to read blueprints and schematics to ensure that welds and parts are located properly.
You identify the parts shown in blueprints and ensure availability for projects.
You follow the Bill of Material (BOM), compare with the blueprints, identify discrepancies and forwards information to tech lead or manager.
You identify faulty welds and you take the steps to ensure they are fixed appropriately and documented.  You will mentor other welders as required in the proper application of the weld.
You adhere to the Super Steel Quality Management System (QMS).
You are willing to complete other duties as assigned.
Supervisory Responsibilities:
None.
Education and/or Experience:
The position requires a high school diploma or GED as well as previous experience as a welder either from course work in high school or technical college courses.  You have two to three years of experience as a base welder.  You must pass a weld test for the position, in addition to multiple weld certifications deemed relevant by Super Steel.  Failing weld certifications may jeopardize position classification.
Knowledge, Skills and Abilities:
This individual will have good verbal and written comprehension, have the ability to thrive in a team environment, and work with necessary supervision.  You must not be afraid to ask questions.  This person must be detail-orientated, and you are able to follow detailed instructions, follow blueprints, and have good math skills. In addition, you should have the ability to interpret measurements, use measuring devices and be knowledgeable using power tools.  You should have the ability to accept constructive criticism from others.  Mechanical aptitude is important.  Use of overhead cranes is helpful.  You need to have the ability to perform math calculations. You are required to work on different projects as necessary is required.
Additional Characteristics: (It is important that all Super Steel employees illustrate the following competencies in the course of completing the job.)
Integrity is the ability to maintain a high degree of certainty between what is said and done.
Motivation is the drive to succeed within the cultural demands of the organization.
Capacity is the ability to handle the volume of work required for success in the position.
Understanding is the ability to know how to prioritize the work and to see how independent action affects others in the organization.
Implementation is the ability to take an idea or concept or plan and successfully execute it within the constraints of the organization.
Innovation is the ability to acquire information and to use the information to develop new decision-making paradigms.
Protective Clothing Required:
The position requires safety glasses, steel toed shoes and appropriate clothing.   Welders must supply their own tools.
Physical Demands:
While performing the duties of this job, you must stand frequently; you will also need to be able to talk, hear, and use your hands to finger, handle, or touch objects or controls.  You will regularly be required to stand and walk.  On occasion you may be required to stoop, bend or reach above the shoulders.
Additionally, you must also be able to occasionally lift up to 50 pounds.  Specific vision abilities required by this job include close vision, distance vision, color vision, peripheral vision, depth perception, and ability to adjust focus.
Work Environment:
The position is primarily a production position located on the plant floor.