| | |
| --- | --- |
| | By Dan Brook, VP of Engineering & Automation |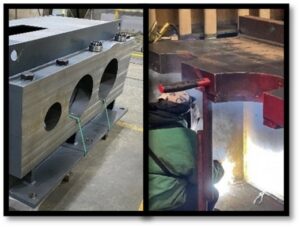 Super Steel is a contract manufacturer for repeating production volumes of complex metal fabrications and assembled whole goods.  Our production capabilities range from thin sheet metal laser and formed parts all the way to heavy weldments that can include plate material 6 inches thick or more.  What is involved in manufacturing products that are large, and heavy?
At 30,000 feet, the steps required to manufacture heavy fabricated parts are as follows: Material handling of heavy plate stock, cutting, forming, welding, stress relieving, blasting, machining, and painting.  Sounds simple, and it can be with clear accurate drawings, work instructions, the right equipment, and a dedicated workforce.
Material Handling
Handing heavy material requires the right equipment safely operated by trained employees.  At Super Steel, we are outfitted with 30-, 25- and 15-ton bridge cranes in each main bay, and 1-ton jib cranes on nearly every building column.  This allows us to safely handle large heavy components at each of the manufacturing phases mentioned above.  All cranes, chain slings, and straps are identified for their respective load capacity, inspected regularly, and maintained to assure reliable and safe service when needed.  At the start of their employment and at regular intervals thereafter, our employees are trained for operating cranes by a respected industry expert.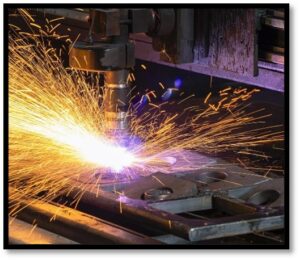 Cutting
Three types of cutting machines are in operation at Super Steel.  Laser, plasma, and oxyfuel.  The type of cutting machine that is used is dependent on the plate thickness to be cut and the tolerance requirements of the part features.  Once part blanks are cut, there is a myriad of potential next steps that can be taken dependent on the part feature requirements.
Forming
Forming a bend in a part is much faster than welding a joint.  Therefore, if the weldment design allows, any weld seem that can be replaced by a bend, should be.  Super Steel has 9 press brakes ranging from 90 tons with a 7-foot bed to 1000 tons with a 22-foot bed.  The large press accommodates the forming of longer thicker parts allowing us to manufacture weldments with fewer weld joints.
Welding
While there are many welding processes utilized at Super Steel, there are two that are generally applied to heavy weldments:  MIG and Submerged Arc.  MIG or GMAW is most common on our shop floor due to its flexibility for weld joint type and position.  Multi-pass welds are applied for all welds joints 3/8" and larger. Submerged Arc is utilized if the weld joint can be positioned horizontally.  The advantage of Submerged Arc is that you can deposit larger welds in a single pass.
Straightening or Stress Relieving
One challenging by-product of welding large weldments is the internal stress that is left behind.  As the molten weld pool cools and solidifies, it contracts and pulls on all the material surrounding the weld joint.
Lighter weldments will distort to partially relieve these stresses.  Depending upon the flatness or form tolerances of the finished weldment, it is commonly required for the weldment to be straightened to reshape or flatten the part to accommodate its downstream assembly fit-up and tolerance requirements.
Larger weldments with thicker part sections will hold their shape and contain these stresses.  This can create significant problems if the part needs to be machined as the part will creep as material is removed.  To eliminate this problem, the steel weldment needs to be stress relieved in an oven.  The steel part is raised to a predetermined temperature for a specific amount of time (part cross-section dependent) and then slow cooled.  This stress-relieving process relaxes those internal stresses which were generated from welding and forming.
Blasting
Blasting is an industry-accepted practice that does two important things related to preparing a part for painting.  First, it removes the unwanted mill scale, weld slag, and spatter from the surface.  Secondly and equally as important, the blasting creates a surface profile on which the coating can bind.
There is a wide range of blast media available.  The media choice is dependent on the requirements of the coating being applied (depth and type of surface profile), and the blast equipment in use.
At Super Steel, we have two blast booths loaded with different media types.  Our 55-foot blast booth is loaded with steel grit for quick removal of mill scale and the application of a surface profile to accept paint.  Our 20-foot booth is loaded with steel shot.  This media is better suited for cleaning, polishing, and smoothing components like power transmission housings.  Both booths are equipped with automated media reclamation systems that reclaim the blast media, clean it, and return it to the pressure pot for reuse.
Machining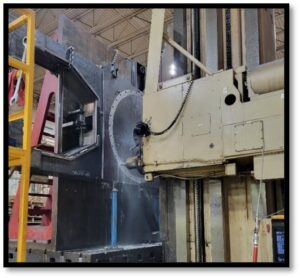 Large weldments often require precision machined surfaces that will accommodate large power transmission components.  At Super Steel, we have a Giddings and Lewis G60-T Boring Mill with a 168" X-axis, 127" Y-axis, 95" W-Axis travel, a 36" Z-Axis quill extension, and a rotary table.  All of which will support an 80,000 lb. part.  Features like slew bearing seats, large, tapped hole patterns, and gear drive pilot holes are easily machined.
Painting
At Super Steel, we have a wide range of equipment options for painting large weldments.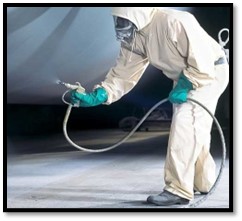 Three liquid spray booths are available and in use, the largest of which is 60 feet in length.  Each booth is equipped with mixing and spraying equipment to accommodate 2-part epoxies.  The 60-foot booth is also equipped with a plural pump system used to apply thick tank liner coatings.  In addition to liquid paint application, Super Steel has a batch powder paint system. The powder system is prefaced with a 7-stage wash process with an iron phosphate conversion coating and includes a 20-foot paint booth and corresponding curing oven to apply direct to metal powder and 2-part (zinc rich primer plus topcoat) powder products.
If you are looking for a strategic supplier capable of completing large heavy weldments, your search is over.  Super Steel is your solutions partner for sourcing large turnkey components.  Contact our Sales Department today for details.