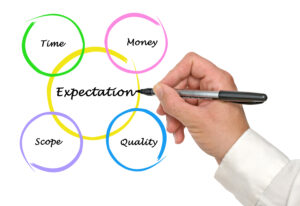 Outsourcing Complex Metal Fabrications or Assemblies? Take These Critical Steps to Drive Quality, Cost-Effectiveness, and On-Time Delivery
Written by: Dan Brook, VP of Engineering
Super Steel is a contract manufacturer of complex metal fabrications and assembled whole goods.  Our customer's expectation is simple; a quality product delivered on time at a competitive price.  From order entry to packaging, there are many steps we must successfully execute to meet that expectation.  At the forefront of this process, our customers provide us with a documentation package that includes all the specifications and requirements of the product.  If this documentation package isn't clear, accurate, complete, and up to date, we will struggle to meet those expectations.  Drawings and Bills of Material that are missing information, out of date, or include excessive tolerancing will contribute to a product that will eventually be found to be nonconforming at the point of use or more expensive than is necessary.  Time and money are lost, and the customer/supplier relationship becomes strained.
Incorrect Drawings and Bills of Material become "Conforming Product" that Requires rework or Replacement
It is the responsibility of the manufacturer to build a product that conforms to the drawing specification without exception.  Assumptions cannot be made; corners cannot be cut.  If the product does not conform to the drawing, it is defective, and we as the manufacturer are responsible for resolving the defect.  However, if the documentation package has suspect information, the product will be shipped as conforming, even though it may not be functional.  This sets into motion a chain of events that takes time, money, is a drain on productivity, and could affect numerous delivery dates.  A root cause analysis is usually required to understand the functional gap (which is usually a time sink for multiple cross-functional team members), and drawing revisions are required which in turn drives a costing review to determine if a pricing adjustment is warranted.  If maintaining accurate documentation is so important, how does the opposite happen?
Tribal Knowledge
Today's manufacturing world is fast-paced, and quick solutions are appreciated by all.  However, when those solutions are not properly documented, they tend to get lost in that same fast-moving environment.  Employees that perform the same set of tasks for years and will remember all those critical details that are verbally communicated are less common than are high-volume orders.  A clean documentation packet is highly effective for communicating critical manufacturing information for infrequent orders and new personnel coming into the work cell.  While training is effective for communicating process steps to shorten the learning curve and drive early productivity, it should not be solely relied upon for communicating critical manufacturing requirements.
3D Model to Detail Drawing Associativity
The development of 3-dimensional computer modeling is one of the greatest advancements in manufacturing history.  The advantages associated with creating complex assemblies using 3D modeling are used in not only design but manufacturing as well.  The 3D model is often used in creating detailed work instructions, or in some cases, the model is made available directly to shop floor personnel to speed their understanding of component and assembly relationships.  Unfortunately, what often happens, is product revisions are made to the detail drawings and not addressed on the 3D model.   This is a shortcut that should be avoided as it can be a major source of confusion and potential error for anyone using the model in the future for redesigns or similar products.  Take the time to assure the associativity between the 3D model and drawing remains intact.
Revision Control
This on the surface seems simple, but engineers and designers struggle with this given the urgency for product releases.  Any time you make a change to a drawing specification, no matter how small, the drawing revision must change if a hard copy or electronic copy has been distributed inside or outside your organization.  A common trap is releasing a set of drawings, realizing that something was missed or incorrect, then re-releasing a new drawing with new specifications and the same revision ID.  Take the time to change the revision in the model on the drawing within your ERP system to avoid manufacturing parts that will end up in the scrap bin or require rework.
Excessive Tolerances
Appropriate tolerancing is paramount to assure downstream assembly goes smoothly.  However, while it might seem beneficial or safe to design a product with strict critical-to-quality features, those designs may require more expensive manufacturing processes or additional manufacturing steps which will drive up the cost and lead time.  The best way to overcome the tight tolerance trap is to involve the manufacturing engineering team here at Super Steel as early in the product development process as possible.  We will communicate the manufacturing method best suited and most cost-effective for each critical feature.  We can offer alternate and less expensive manufacturing options that may drive design adjustments that can result in lower product costs.
Too little or too much information
When creating a drawing, try to put yourself in the position of the individual who will be using that information to make the part.  The easier it is for the person to comprehend the information, the less time it will take to learn and make the part, and in turn the less expensive it will be.   Step through the manufacturing process in your mind to assure all the dimensions are included to locate, size, and address all critical features.  I would encourage the development of a document checklist for review prior to the release of each drawing to help assure all critical information is addressed (material type, coating type, thickness, surface finish, alternate material in this day of supply chain challenges, etc.). Too much information can be a challenge as well, as it forces the operator to search which takes time. For example, combining welding and machining specifications on the same drawing view is not recommended.   Consider creating 2 drawing views to segregate the welding specifications from the machining.  The drawing view will be a lot less congested and easier to understand.   The key is to provide only the information that the operator needs for the value they are responsible for adding to the part.
Second Pair of Eyes 
Designing metal structures and equipment is a difficult undertaking and the pressure to complete engineering work by a deadline is ever-present.  Given that the drawing package is at the tail end of the design and development process, it is common for details to be overlooked.  Weld symbols are often inadequately specified which can result in incomplete structures, rework, and delays.  A review of engineering drawings by someone other than the person that originally created the drawing is always recommended.
Drawing Configuration
It is a common practice among some OEMs to use a single drawing to document top-level assemblies, weldments, and detailed drawing information.  While we can certainly work with this information, it does make processing the information more challenging.  Separate drawing files for each piece part allows us to organize the electronic files to facilitate forwarding RFQ's to our suppliers and create shop order packets for piece part manufacturing.  In addition, it means not having to flip through numerous pages to find information for a specific part. The easier the drawings are to follow, the sooner we can complete an estimate, provide a quote, and upon receipt of an order, process it through engineering.
Perform a Full Inspection
The most effective way to correct the sins of the past is to perform a full inspection of the part, identify the critical feature gaps between the part and the drawing, and have your engineering team update the documentation package.  This is especially critical of a mature product that hasn't been reviewed for some time.  This step alone will eliminate many headaches that can develop when outsourcing parts for the first time.
Conclusion
Meeting the quality and delivery expectations of our customers is our number one goal.  Achieving that goal starts with a partnership that will drive communication resulting in cost-effective designs, and clear, accurate, and current drawing packages.  You're not alone with these challenges. We have an entire engineering team that is here to support your efforts.  We are here to help.